Diving, particularly for abalone, is very popular,
and can be tons of fun.

You'll find dive gear at North Coast Scuba, located at 38820 S. Highway 1 in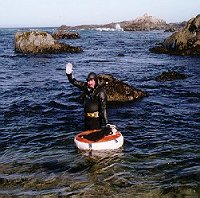 Gualala. They can also be reached at (707) 884-3534. For used dive gear, the Anchor Bay Campground offers an ongoing flea market, with the profits going to charity. The campground is located in nearby Anchor Bay, just four miles north of Gualala on Highway 1. Call (707) 884-4222 for more information.
Please check the water conditions before you dive and always take a buddy with you.
Be sure you know the current regulations on abalone diving. The Department of Fish and Game details these regulations.